Fall Fashion: 2022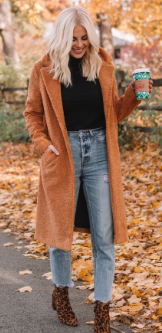 Fall fashion has changed with the flow of fashion every year and this year is no different. Most popular this year are bright oranges and striking lime greens. Though more neutral colors like brown and gray have made a comeback for our fall season. Many companies have made a sizable profit this year from floor-grazing skirts and dresses, integrating the popular puff sleeve trend and even the ballooned silhouettes.
Off the runway, many people are wearing far less flashy outfits like leather jackets and ripped jeans, which have become some of the highest sellers for this years fall weather. More subdued colors that are commonly being requested are soft shades of caramel and auburn. Expanding on the topic of jeans, many people are interested in baggy jeans as well as high-waisted jeans.
Veering more towards masculine clothing, things like Letterman jackets are at the top of the list quickly followed by flannel shirts and, once again, jeans. Colors like dull red, dusty yellow, and pale orange are rather popular. Leather jackets are also very popular for men along with sturdy button-ups and neutral-colored t-shirts.
Shoes this year are a vast group, ranging from over-the-knee boots to platform heels for women and boots to sneakers for men, there is a plethora of footwear to pick from. Many expensive boots are making a comeback this year for women while many heels are also very popular. Though, sneakers are still an easy alternative for those looking to dress a little less flamboyantly. Men have a much smaller selection, but many famous sneaker brands are in high-demand for fall this year, while boots are still one of the most-requested shoes that men are looking for.