Getting Into The "Holiday Spirit"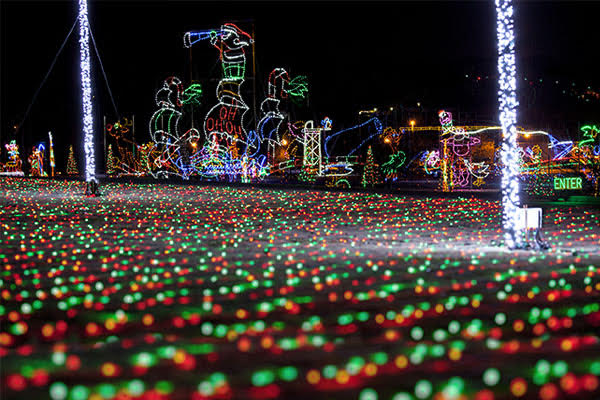 Of course, 2020 has been full of surprises, to say the least, but that doesn't mean we can't enjoy what brings us joy. For us, The holidays are full of laughter and spending time with family. I love decorating the tree with the ornaments from my parent's childhood, along with the ones I've acquired growing up. Some people might disagree and feel that the holiday cheer is with friends and going out to explore what the holiday can provide. Things are greatly different this year, but if you enjoy going out, this article is for you.
If you enjoy some holiday flavored beverages, you can still enjoy them through the drive-thru! Mackenzie and I both share the same holiday drink of choice, Dunkin Donut's "Gingerbread Iced Coffee". We would highly recommend it. Besides enjoying the drink aspect, the car ride to your choice of drive-thru can be filled with some Christmas carol karaoke! Don't worry, since you will be most likely alone you can belt out your favorites with no judgment.
If there are no light shows or Christmas displays near you, there's another option! I personally love driving around near Christmas time at night and simply enjoying the beauty of everyone's decorated homes. If you haven't done this before, now is a perfect time! This activity doesn't even require leaving your car (Don't go on their property, you probably don't want authorities involved!).
The next adventurous activity to attend during the holidays would be the Big Butler Fairgrounds. Mackenzie Knopsnider has experienced it first hand. For that reason, she will be sharing her experience!
"I attended the fairgrounds for the light show on November 28th this year. This year it will be lasting until January 3rd, 2021. The show is located in Prospect, PA. The hours for the season, as of now, is 6-10 pm. For a car with less than 8 people, it costs 30 dollars. The lines can be a long wait, depending on what time you get there. If you notice the line is long and you do not want to wait, you can buy the express pass! This is an additional 20 dollars to the amount you already spent. If you would rather pay 30 dollars with no wait time, it is suggested to attend Monday-Thursday. The lights are synchronized with music, which you will be instructed to turn on through your car radio. The display is over 2 miles long, along with a 300′ tunnel to drive through. Towards the end, there is a "Twelve Days of Christmas" scene with a comical spin on the traditional song. Sadly, Santa's Village cannot operate this year due to COVID-19 restrictions. I highly recommend this enjoyable and safe holiday activity.
Lastly, for those who enjoy staying in. Grab some snacks and watch your favorite holiday movies in the comfort of your own home! You could even have a gingerbread building house contest with your family members! If you prefer to stay in your room, there's always the best holiday playlists to enjoy.
Whether you choose to stay indoors or go out this holiday season, remember to stay safe! Merry Christmas from us to you!