February's Spotlight Teacher
Mohawk High School has been the home of a particularly noteworthy Kike Skills Support Teacher for six great years Mrs, Krisuk, a graduate of Clarion University with an elementary  education/special education degree taught five years in Charlotte, North Carolina and spent one year at Pressley Ridge School for Autism. She became a National Board Certified Teacher while in North Carolina and recently completed her Master degree through Slippery Rock University. SHe has been in this field of work for quite some time and she absolutely loves her job. In her own words, "I feel like I have the best job in the  world!
"
My kids are amazing and teach me so much every day!"
— Mrs. Krisuk
Mrs. Krisuk works with kids on academic skills, job skill, social skills, and life skills that they will need when they prepare to leave high school. She likes to immerse her students in as many real life situations as possible because as she says, "it is so important for them to experience these activities and work in these skills." Preparing students for jobs post-school is a key aspect of Mrs. Krisuk's work. She works with students to figure out what they would like to do after leaving school and then begins to prepare for that activity in as many ways as possible.
Mrs. Krisuk uses her passion for her work to participate in various creative learning experience with her students. Just this year they started their coffee cart service, which provides the students practice on social and job skills filling them with a sense of pride and ownership. The students pick the items for the cart and send out a Google  order form to school staff every week. This has been an all around successful venture; Mrs. Krisuk reports that the students are getting better every week and really enjoy it! Students are also taken to the local Walmart where they collect groceries from  lists provided by the school staff.  Through finding the items, purchasing and delivering the items to the staff, the students hone these very practical life skills. Mrs. Krisuk says, "It's a great way to practice important life skills at the store!"  The after school program "Forever Friends" is also connected to Mrs. Krisuk. It is in this program that students work with peer buddies on sportsmanship skills and teamwork in a fun environment.
It is fairly obvious that Mrs. Krisuk is very dedicated to her work and her students. "I love my students", Mrs. Krisuk says, "past and present. They are so kind and work so hard every day. I am constantly amazed by the progress that they make and the many skills they are capable of. " With her work and enthusiasm as proof, it is easy to see that Mrs. Krisuk is a devoted member of the Mohawk High School staff.
About the Writer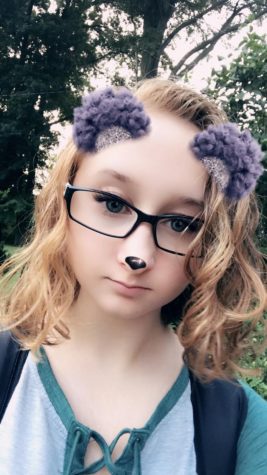 Callista Micco, Staff Writer
Hi there! I'm Callista. Currently 17, confused, and trying my best. I'm the eldest of four and also the shortest, but still perfectly passionate. I enjoy...