Mohawk Prom 2022
May 6th, 2022—At the Scottish Rite Cathedral in New Castle, Mohawk High School put on their first prom since the COVID-19 Pandemic. A night full of dancing, laughing, and fun. At the end of the night, our very own prom royalty was crowned.
In the night full of music, Mohawk students danced, while several just hung out with their friends.
Towards the end of the night…and the moment everyone was waiting for, the crowning of our prom royalty.
Mohawk's 2022 prom jester is…Ben Podnar!
Mohawk's 2022 prom prince is…Noah Grimes!
Mohawk's 2022 prom princess is…Ashley Dean!
Now for the prom King and Queen.
The 2022 Mohawk prom king is…AJ Carnuche!!
"I felt nothing but honored to be voted prom king by my peers. I enjoyed making so many friendships throughout my time here at Mohawk," said the king.
And the 2022 Mohawk prom queen is…Angie Retort!!
"Being crowned prom queen was absolutely surreal. It was an honor to be chosen out of all of the girls in the senior class, it was truly a heart filling moment," said the queen.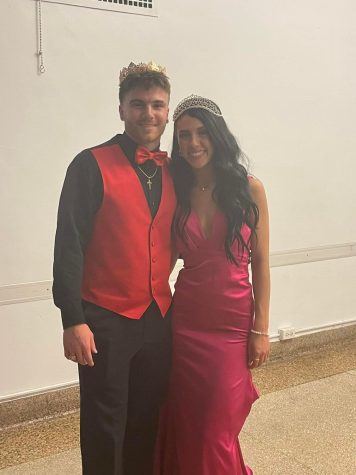 For the rest of the night, the students enjoyed their time at the cathedral before heading home for the night.