The Mohawk Cheerleaders take on YSU Pink Ribbon Cheer Classic
Hang on for a minute...we're trying to find some more stories you might like.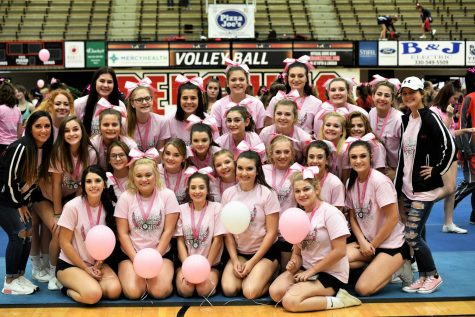 After months and months of practice and many bumps in the road, Mohawk Cheerleading decided they were ready to compete Sunday, October 21st for a great cause. YSU PRCC is a long day full of hundreds of schools competing, donating, and cheering on other schools. Senior captains Maddy Fazenbaker and Gianna Retort led the team with positive words before they competed. Gianna Retort said, "We huddled up and prayed and said we were not doing this for us, we are doing it for our cancer survivors and those who have died from this horrible disease. This is also our marking and our chance to perform what we worked so hard for before Laurel's Cheer competition" The competition is quickly approaching next month. The day before they were in the gym Saturday morning practicing for 3 hours to try to fix any loose ends. However, one of the teams's best flyer suffered from a concussion, so they spent the last hour adjusting the routine. Mohawk cheerleaders head coach, Taylor Norco said "we didn't know what to expect when we went out there, all I knew was good or bad, I was proud of these girls for squeezing in any free time they had to be at the school and working to nail this routine. They had positive attitudes and most importantly, they had fun and it really showed when they went out there and hit everything. Our scores were great, and now we are ready to fix little mistakes and work even harder for Laurel's Cheer Competition." Mohawk Cheerleaders have been attending YSU PRCC for years winning biggest donor almost every year, and bringing home 5th place for have the best sign this year. Also, Congratulations to Asia Kerr for placing 4th in the tumble off.