STAT Team sees Google and Inventionland
On December 18th Mohawk's STAT team traveled  to Pittsburgh. Their first stop was at Google in Bakery Square. Their morning began with a guided tour of the office space, which included the old Nabisco plant and a newly built building. The students got to see what it is like to work at Google. The highlight was seeing all the micro kitchens for the employees, a giant net hanging from the ceiling that employees could hang out in. After the tour a panel of six googlers were on hand for 45 minute Q & A where the students were able to ask what are the best parts of working at Google and advice for their futures. After Google the students stopped for a quick lunch then headed to Inventionland also located in Pittsburgh. Inventionland provides opportunities for people to see their ideas become reality. The guided tour showed all the amazing rooms that were very similar to an amusement park. Inventionland is America's largest invention factory, where corporations and major retailers come for their innovative new product lines.  Our own reporter Jaxon Schoedel also attended. Here is what he thought…
Hi my name is Jaxon and I was lucky enough to get to go to Google and Inventionland. First we went to Google and they took us into a conference room and explained to us the rules and restrictions of the facility. Then our tour assigned Googler took us down to the offices and explained what they did. They said that it was their job to keep the Google sites running and working correctly. Others said that they designed the sites and web pages.The tour guide took us out on the sky bridge. After that we gathered back in the conference room. Then my group went to Five Guys.Next we went to Inventionland. Inventionland looks like a typical office building until you go inside. Then the office is like a giant playground. The offices were in race tracks, pirate ships floating in real water, and tree houses! It was amazing! The tour guide told us how we could be as creative as we wanted to be. It was very encouraging. He said Inventionland said "It all started with an idea that failed". He explained how it was ok to fail and to always start again.
I was very lucky to get to go on such a trip! And thankful for such great teachers!        
About the Writer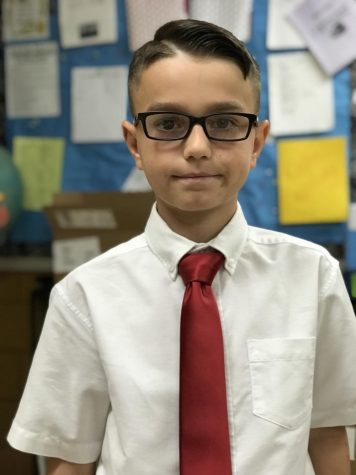 Jaxon Schoedel, Elementary Editor
Hello, my name is Jaxon Schoedel. I have joined The Arrow because my Language Arts teacher, Mrs. Jones, suggested it. I was doing a newsletter on Google...